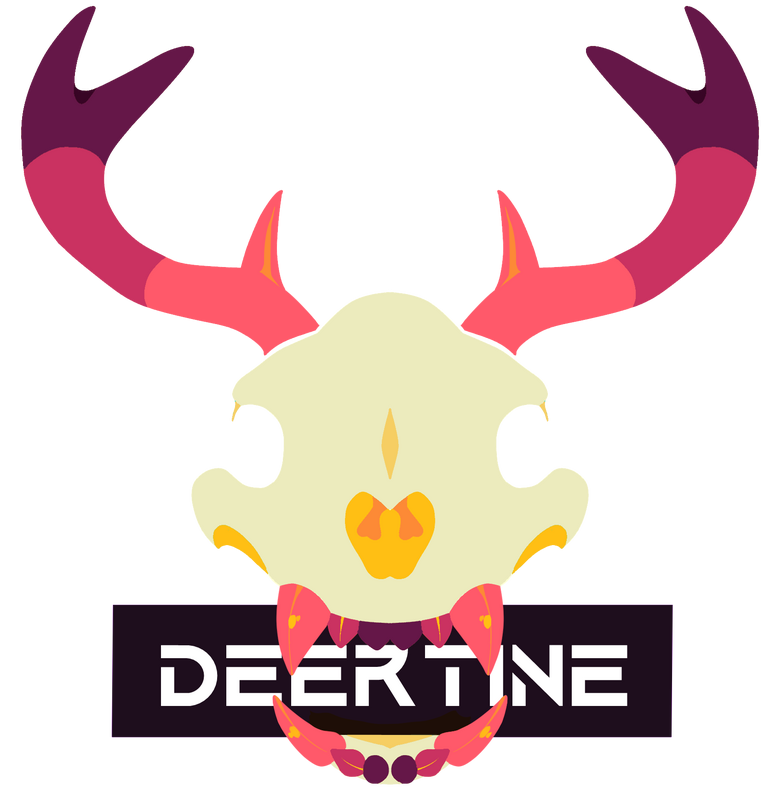 Hello! Welcome to my site! I am Deertine, a freelancing canadian artist. I specialize in digital art and graphic design. I am always open for commission inquires! Please consider following me on the my social medias to see when I upload new art!
____
Deviantart • Furaffinity • Twitter • Toyhouse
Work and commission
Here you can see a small portion of my artworks. I would check my other social medias for more examples. My commissions range anywhere from $20 - $100.

YES! I do commercial commissions, please contact me to discuss prices and terms.
---
PRICES:
$30 - 100x100 pixel icon
$35 - Halfbody 400x400 icon
-
fullbody
$50+
Price depends on difficulty.
Small Symmetrical headshot
(200x200px)
$20 each
$80 for 5
$150 for 10
(Prices may increase for super complex designs)
Any species, perfect for toyhouse icons!
I can discuss large quantities.
example
Badge
$40+
Price raises based on complexity
(including name/text length)
Reversible/Two-sided $100+
Cheebs
$30 per character
A simple 400x400 fullbody of your character!
Custom
$40+ depending on difficulty
Will come in a sketchy style like the bottom examples below.
(+$15 for clean lines)

Contact me, I would prefer at least a brief idea on what you're looking for. I specialize in monsters.
Mask design
(Mask not included, only art)
(Aka you have to print your own mask I only do the art for the mask.)
$30 per mask design
I can do any animal/monster, I can also do patterns.
-
LIGHT CHARACTERS WORK BEST!
Dark designs may experience a loss in detail when printed out.
TOS/FAQ
(TOS last updated Nov 2nd, 2020)
_____

•No I will not draw fetish art, Propaganda, or offence material.

•Art takes time, I have a life outside of deviantART, give me at least two weeks before asking about your commission. Asking before than is rude and will just pressure me, most likely resulting in me refunding you.

•No Refunds unless I cannot do your commission.

•If you're paying with an e-check through paypal I will only start your commission/transfer the goods once I get the money
Art rights
•Please do not remove my watermark. It's there to protect me, and you from art/character thief. I always try to put it in a spot where it's not bothersome so please be respectful. ♥

•Please don't use my artwork for commercial purposes. If you want a picture to use as your brand logo/merch please let me know ahead of time, so we can organize something!

•Please don't edit my art, I'm fine with extremely minor edits like if I forgot a marking or two. But please ask me first!

•Please don't use any of my free to use art for commercial use, this includes free CSS codes. They are simply for your personal use.
Design rights
•You can sell a design for up to 50% higher than their worth, since I understand sentimental value is a thing.

•You can sell my designs regardless of how you got it (trade/art/sale) It's your property go for it man!

•You can change the design as much as you want, give it any sort of story, etc.
Blacklist
People on my blacklist can not own my designs, or use my art after being blacklisted. Knowingly failing to comply may risk character rights being retracted.
I do not like having to do this, but I don't think my creations are safe in the hands of these people.
_____
Skullkiin/hammerlockestadium (dA,twitter,TH,fA) - Harassment, design theft, tracing, etc.
Proof: x
Kiwigis/Dinoyolk (dA,TH) - Harassment over character offer, and using designs as trade fodder.
Other rules
•Please don't reference/copy/steal my characters/art/etc. Both my characters and art belong to me under copyright law, and I will enforce it if neccisary.

•Please don't advertise contests/adopts/etc. to me. Seriously, doing this just makes me less interested. Let me find it on my own and than we'll see.
FAQ
What do you use to draw?
-
Wacom tablet, and CSP (Clip Studio Paint)

Can you teach me how to draw?
-
Sadly no. I don't do good as a teacher. The best advice I can give is to keep trying, and never give up!

Can I have free art?
-
Art is my only income and I can't afford to make it for free, so sorry no.
I will sometimes take requests, which I will post over on my twitter.

Can I draw one of your characters?

-
sURE, In fact I completely recommend it. I love getting gift art!
My characters are listed on my Toyhouse
Contact
Here you can find my other social medias, I'm most active on twitter, I go by the name Deertine on all sites, If you see me on a site not listed here it's either not me or an inactive account.

You can also email me at [email protected]